Free display of your business via EEA
The Athens Chamber of Tradesmen, enriching its benefits to its members, now gives you the opportunity for free internet display through its website: www.eea.gr
All members of EEA now have the opportunity to post their business logo as well as a 1,000-character ad on their tab in the EEA Registry.
As you may be aware, the possibility of searching for businesses – members of EEA by other members or third parties who are looking for partnerships, is free, and no registration is required and the search is made by "keywords" by: a) the activity description of the members, b) Activity Code Numbers 2008 (KAD2008), c) the name or the distinctive title; d) by municipality and KAD; or e) by a combination of the above criteria.
The search is done either directly from the EEA website by clicking on the following icon
either through the corresponding search screen of the E-CHAMBER.
A) Passwords to the e-Chamber
To enter your details you must first have received the password (PIN) in the e-Chamber.
If you are not a user of our digital services, click here to sign up for the e-Chamber. The PIN is received immediately by pressing 
 after filling in the required fields on the special sign up form. In the following link you can see in detail the advantages and amenities provided by using the e-Chamber's digital services.
B) Instructions for entering Logo and Advertising Text
You can visit our website at: https://echamber.eea.gr or through our central portal eea.gr, by clicking on the banner e-chamber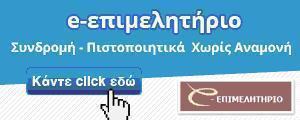 You enter the system by entering your Registry Numberand PIN.
On the home page, click the Settings tab
Then click on the Display Details tab
Choose Logo upload bearing in mind that the size of the image file should not exceed 100,000 bytes (<100 B) and the image size must be up to 200×100 pixels ( the dimensions are displayed by right-clicking on an image file and selecting Properties).
Once selected, click Upload
To fill in the advertising text, click on Edit Profile and copy or format your business advertising text. Attention, the text must be up to 1,000 characters, including spaces.
Then click Save and the text is ready, formatted and posted, as you specified, through our service.
You can change both the text and the logo of your business at any time by following the procedure already described.
In case you have any problems, feel free to contact us directly on the contact details displayed on the e-Chamber's homepage screen.