Instructions for Online Application for Renewal of Civil Liability Contract
ONLINE APPLICATION FOR THE RENEWAL OF CIVIL LIABILITY CONTRACT
You can apply for the renewal of a civil liability policy via the e-Chamber's online services, provided you have paid any subscription debts and have a scanner or document conversion application on your smartphone camera, in order to download them required documents civil liability policy and payment receipt) in pdf file format. If you have not yet registered with the Chamber's online services, click here to register. The application is activated by following the instructions, from the tab: Application <New Application < Start Procedure < Renew insurance policy application (see image Ζ1)
Image Ζ1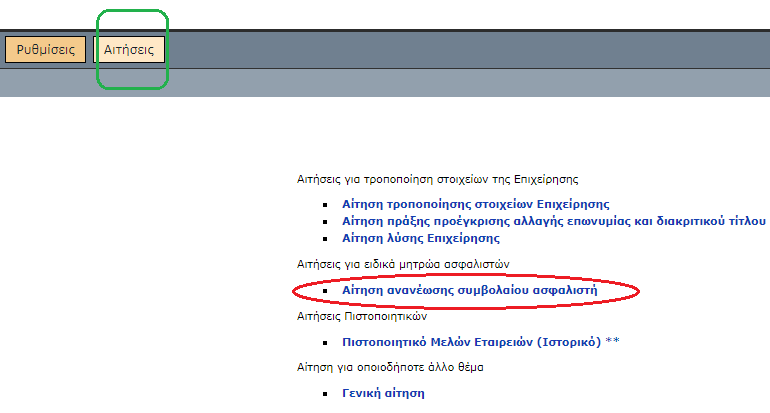 The supporting documents required are the following:
Signed Application Form (produced upon confirmation/correction of fields with the applicant's data which are automatically completed by the system with the data kept in the member's register),
Civil Liability Policy in force which must be accompanied by relevant receipt of payment.
After submitting the documents to the e-chamber,,the online application is processed by EEA Services and changes are recorded immediately in EEA and GCR registries, while the application is completed by simultaneous dispatch of a relevant information message from the automated system of the e-Chamber and the email: [email protected] , to the registered e-mail during the online application procedure.
Once the application has been completed, it is possible to track and control the changes made from the tab: Business Tab < Special Registries.
The civil liability policy renewal service is accompanied by the simultaneous issuance of an Attestation which is provided free of charge through the tab: Certificates < Certificate History (see Image Ζ2).
Image Ζ2
If you need more information, call + 30 210 3380 200 daily, option 2 Registry in the morning (8.00 – 9.30) or in the afternoon (14.30 – 15.30) and Wednesday until 17.00, where the transaction volume at the registry services is lower.